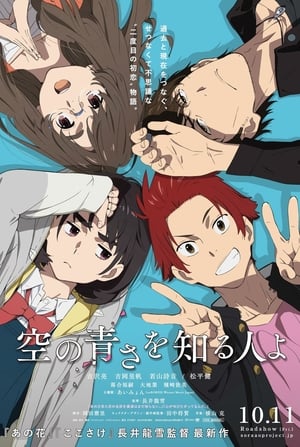 Sinopsis :
Sora no Aosa wo Shiru Hito yo BD Movie Subtitle Indonesia
---
Streaming dan Download Sora no Aosa wo Shiru Hito yo BD Movie Subtitle Indonesia Nonton online 1080p 720P 480P 360P
Siswa SMP Aoi Aioi tinggal bersama kakak perempuannya, Akane, setelah kecelakaan tragis yang membuat orang tua mereka meninggal 13 tahun yang lalu. Karena Akane sejak itu merawatnya sendirian, Aoi ingin pindah ke Tokyo setelah lulus untuk meringankan beban saudara perempuannya dan mengejar karir musiknya, terinspirasi oleh mantan pacarnya Akane, Shinnosuke "Shinno" Kanamuro. Shinno adalah bagian dari sebuah band sampai ia berangkat ke Tokyo untuk menjadi seorang bassis profesional setelah orang tua kedua saudari itu meninggal, dan ia tidak pernah terlihat lagi.
Suatu sore, ketika Aoi berlatih gitar di wisma, ia dikejutkan oleh Shinno versi 18 tahun dari 13 tahun yang lalu! Seolah secara kebetulan, Shinno yang saat ini berusia 31 tahun juga kembali ke kota, tetapi ia telah berubah secara drastis. Sekarang ada dua Shinno yang ada, tetapi mengapa Shinno dari masa lalu hadir?
Sora no Aosa wo Shiru Hito yo berputar di sekitar empat individu ini ketika mereka menghadapi perasaan batin mereka terhadap satu sama lain dan membuat keputusan yang akan mempengaruhi kehidupan mereka dari sini.
source:huntersekai
raw 1080p:Ohys-Raws
Synonyms:
The Person Who Knows How Blue the Sky Is, Her Blue Sky BD Sub Indo
Score: 7.70
Genre: Animation, Drama, Fantasy, Romance
2021-09-09 16:21:01
Donlod nonton video, miownime, meownime, anoboy, neonime, moenime, gdrive, unduh, oploverz, otakudesu, kusonime, meguminime, maxnime, batch, nimegami, anitoki, otaku desu, anibatch, neonime, streaming, riie net, awsubs, anikyojin, yukinime, drivenime, animeindo, samehadaku, nekonime, kurogaze, vidio, melody, moenime, google drive.
Theater Mode
Jika Mirror Streaming dan Link Download Error, silahkan gunakan Mirror dan Link alternative lainnya.
Pilih Link Download dibawah.
Link Download Sora no Aosa wo Shiru Hito yo BD Movie Subtitle Indonesia | Neonime
Tampilkan Komentar